Dear Exhibitors,
welcome to infa 2020 in Hannover.
As a service provider, we always strive to ensure that our cooperation with exhibitors is as efficient and unbureaucratic as possible. However, the wealth of technical and organisational information associated with organising a show means that a certain amount of "small print" is unavoidable.
Please read our construction and exhibition information, the safety instructions and the technical regulations carefully and also pass this information on to all contractors responsible for building and dismantling your stand, as well as any sub-exhibitors and your staff, if applicable.
This information and the technical regulations as well as the FAMA's "General Trade Fair and Exhibition Conditions" and the "Special Exhibition Conditions" form part of the contract covering your participation at infa 2020.
Our online service shop is ready for you. Take advantage of the shop to order all the services you need, as e.g. additional exhibitor passes, stand construction, rental furniture, waste disposal etc.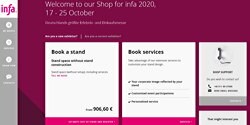 Please log in with your access data you have received with the stand confirmation. Then you can start with your orders.
If you need assistance, please call our shop support, Phone: +49 (0)511 89-37000
Please make sure that you send the forms back by the "Final date for submission" date!
If orders are sent in later, no guarantee can be given that the services ordered will be ready on time. A surcharge will be charged for all late orders that arrive after this date.
Service Plus


All services you order will be invoiced by Fachausstellungen Heckmann.
Best regards from
FACHAUSSTELLUNGEN HECKMANN GMBH
HANNOVER / BREMEN